Super fine dust suppression at its finest
Super fine dust suppression at its finest
Find out how BiOx can help you.
Not all dust suppression systems are equal, and the costs for getting it wrong can be high, but BiOx offers superior water cannons that fire a fine mist to effectively remove dust from the air.
Legislation requires construction sites to minimise the amount of dust they generate, and failure to do so will bring penalties, both in fines and stop work. Dust also poses a health and safety risk for works and will generate complaints from the public and neighbours to the worksite.
Historically, the solution was to have a guy with a hose, spraying water about. However, this is both ineffective and causes other issues, such as run off, and simply wastes water. The solution is a state-of-the-art dust suppression cannon from BiOx.
BiOx project director Colin Heeney says the effectiveness of a dust cannon comes down to the droplet size it puts out – simply, the smaller the better.
"By shooting out a fine mist, you can better capture the dust. The smaller the water particle, the better it binds to dust. Larger water droplets simply move dust around as it falls to the ground without taking the problem dust with it. It also can create other problems, like excessive surface water and runoff.
"Our Spraystream cannons use high pressure to throw a very fine mist into the air, using as little water as possible to effectively control dust."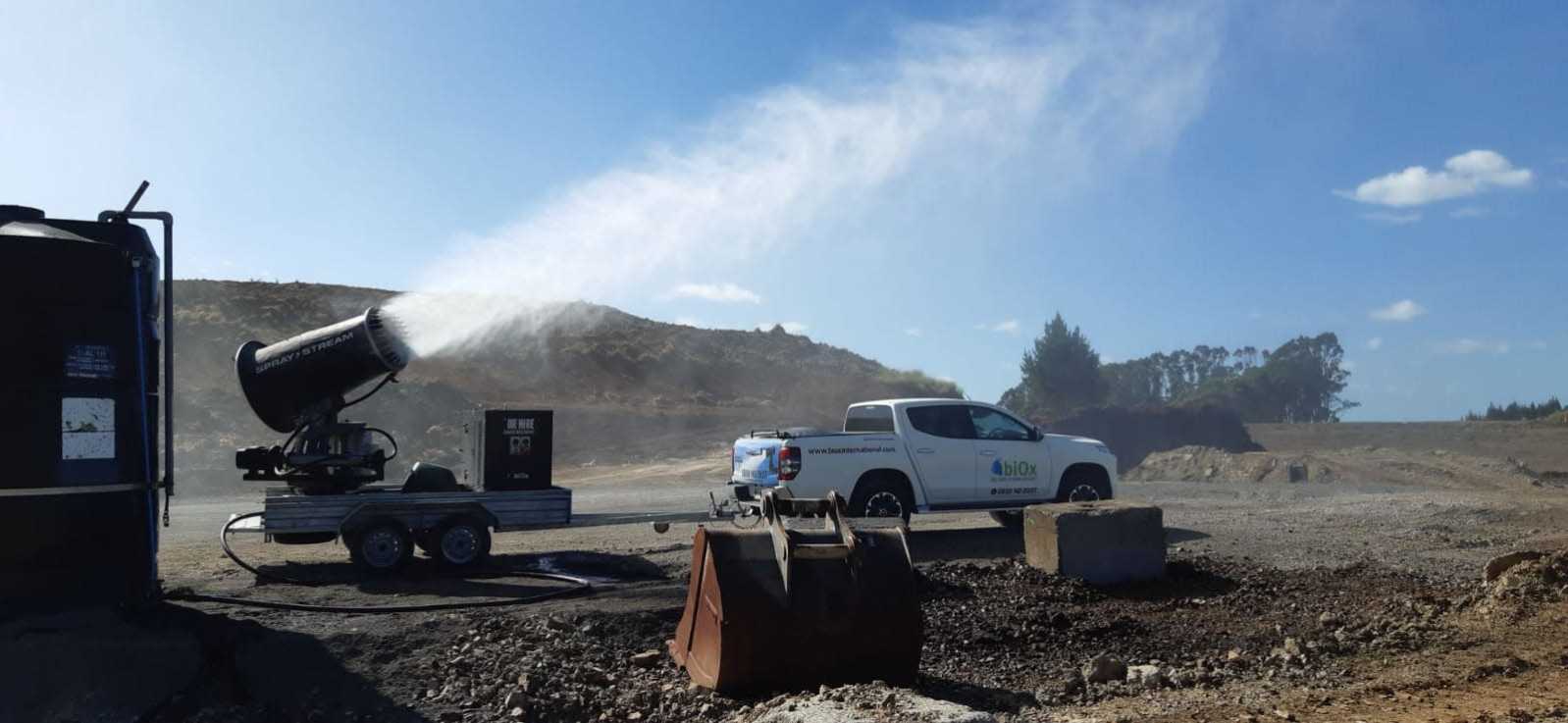 BiOx offers Spraystream water cannons suited to a variety of different situations throughout New Zealand and Australia.
"We specialise in this, so only offer the very best available worldwide. Our cannons have a composite fibreglass cone and stainless and galvanised componentry, rather than steel, so they don't rust like other brands and can be easily repaired if they take a knock.
"We also offer the widest range of off-the-shelf solutions on the market – both cannons, which are set back on site and throw mist, and fixed line misters, which are fixed overhead on building or equipment.
"We have a more than a dozen different options to hire or buy. Cannons that spray water from 25 to 50 metres are our most common size, but we do have cannons that can blow up to 150 metres.
"Additionally, you can choose to take just the cannon, or we can also supply a generator and a water tank if needed. And we can provide all three in one trailer unit."
Colin says that the Spraystream cannon will achieve spectacular results in the under 50 metre range simply plugged into a garden hose.
"You do need a decent amount of grunt to power it, but you need the high pressure to create the extra fine water droplets. Low pressure units, or units without pressure pumps, create a much larger droplet that simply moves around the dust particle without bringing it down."
Spraystream dust cannons have proven effective on a number of high profile projects in Auckland, where both the clients' and the public's expectations were high.
"On projects like this you simply can't afford to get it wrong.
"In 2016, Auckland's largest stevedore company contacted us to help with dust issues from PKE, gypsum sand and metal slag handled at the port. We initially provided two cannons blowing some 80 metres complete with generators, and the following year sold them another two self-supporting cannons, complete with water tanks and generators, blowing 25-30 metres.
"We also provided assistance on the Auckland Viaduct redevelopment, where land was reclaimed around the Tank Farm. The bonus of the misting solution is that it can be used to knock out odours – in this case, the smell of fuel that was embedded in the dust – with the addition of a low dose oxidising agent."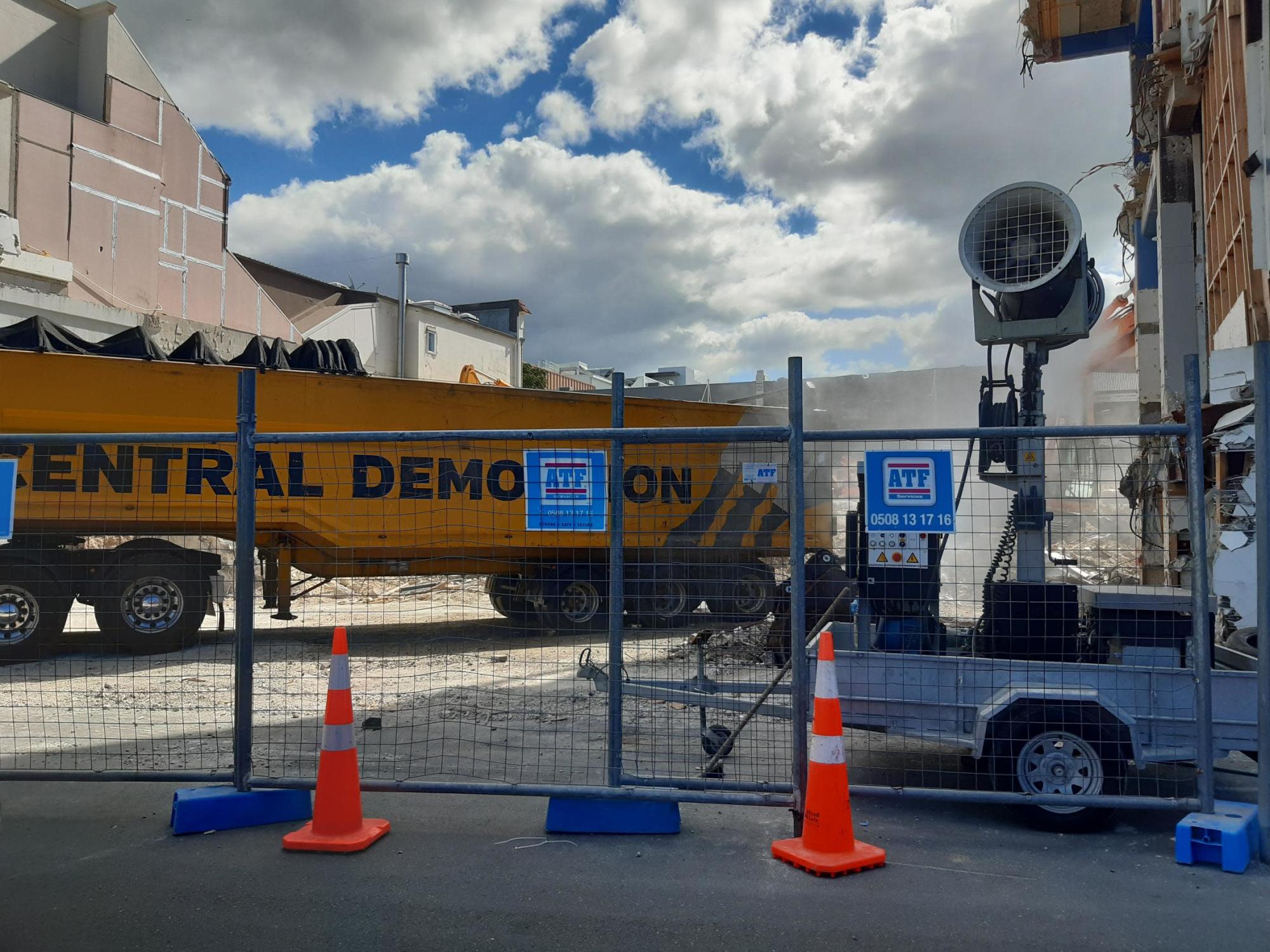 The odour-control function of the Spraystream cannons makes them highly effective in wastewater treatment plants, and waste, composting, and recycling facilities – once again, the super fine mist is the key to success as odour molecules bind better to water particles that are a similar size to them.
"Not all water cannons are created equal. We've got years of experience and have positioned ourselves as the go-to guys for dust suppression."
Colin and his father set up BiOx in 2007, servicing New Zealand and Australia. And while the pair are based in Tauranga, they have branches in Auckland and Christchurch, and another to come soon to service the central North Island. Business is definitely growing.
"Over the years we have seen the legislation around dust get tighter, and the penalties for getting it wrong get higher. Having someone standing on site holding a hose simply doesn't cut it anymore.
"For about the same cost as having an employee with a hose, you can plug that hose into one of our cannons and product a super-fine mist that efficiently gets rid of dust in the air without wasting water or causing run-off issues.
"It's simple and effective, and will keep your clients, the public, and the regulators happy."